Rank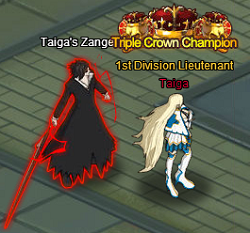 Rank
can be access from
Character Information
window. Your Rank will be shown above you at all times when you are at the main town.
Daily rewards such as Silver (salary) and Soul are based on your Rank.
Rank will also give bonus attributes to you and your partners in formation.
You need to use Prestige to upgrade your Rank to the next level. Prestige can be obtained through the Arena and several other places.
Rank will determine the total number of partners you can own.
Rank will also determine the number of Partners you may have in your formation.
Higher Rank will require daily upkeep cost of Prestige (it will deduct/minus Prestige daily).
When being 5th Division Lieutenant you can save up Prestige to get the Mugetsu title faster because you won't be affected by daily prestige deduction. The biggest downsides of this are lower bonuses, partner slots and a window continuously popping up asking you to level up.
List of Ranks
Rank
Upgrade Cost (Prestige)
Daily Silver
Daily Soul
Upkeep Cost (Prestige)
Bonus STR
Bonus WIS
Bonus AGI
Bonus HP 
Bonus Damage Rate
Bonus Immune Rate
Max Partners
Max Partners in Formation
Mugetsu
600,000
1,154,880
2,500
25,000
+2,000
+2,000
+2,000
+5,000
+30%
+30%
18
5
Soul King
600,000
846,912
2,400
20,000
+1,800
+1,800
+1,800
+4,500
+28%
+28%
16
5
Quincy King
500,000
790,254
2,350
18,000
+1,700
+1,700
+1,700
+4,250
+26%
+26%
16
5
King of Hueco Mundo
500,000
737,016
2,300
14,000
+1,600
+1,600
+1,600
+4,000
+24%
+24%
16
5
Arrancar Leader
400,000
686,996
2,250
10,000
+1,500
+1,500
+1,500
+3,750
+22%
+22%
16
5
Zero Division
400,000
640,000
2,200
9,000
+1,400
+1,400
+1,400
+3,500
+20%
+20%
16
5
1st Division Captain Commander
400,000
595,764
2,150
9,000
+1,300
+1,300
+1,300
+3,250
+18%
+18%
16
5
1st Division Lieutenant
300,000
554,268
2,100
8,000
+1,200
+1,200
+1,200
+3,000
+16%
+16%
16
5
2nd Division Captain
300,000
515,336
2,050
8,000
+1,120
+1,120
+1,120
+2,800
+14%
+14%
16
5
2nd Division Lieutenant
200,000
478,728
2,000
7,000
+1,040
+1,040
+1,040
+2,600
+12%
+12%
16
5
3rd Division Captain
200,000
444,430
1,950
7,000
+960
+960
+960
+2,400
+10%
+10%
14
5
3rd Division Lieutenant
230,000
412,216
1,900
6,000
+880
+880
+880
+2,200
+8%
+8%
14
5
4th Division Captain
140,000
382,074
1,850
6,000
+800
+800
+800
+2,000
+6%
+6%
14
5
4th Division Lieutenant
120,000
353,728
1,800
5,000
+760
+760
+760
+1,900
+4%
+4%
14
5
5th Division Captain
100,000
327,236
1,750
5,000
+720
+720
+720
+1,800
+2%
+2%
14
5
5th Division Lieutenant
90,000
302,340
1,700
-
+680
+680
+680
+1,700
-
-
12
5
6th Division Captain
80,000
279,096
1,650
-
+640
+640
+640
+1,600
-
-
12
5
6th Division Lieutenant
70,000
257,264
1,600
-
+600
+600
+600
+1,500
-
-
12
5
7th Division Captain
60,000
236,898
1,550
-
+560
+560
+560
+1,400
-
-
12
5
7th Division Lieutenant
40,000
217,828
1,500
-
+520
+520
+520
+1,300
-
-
12
5
8th Division Captain
30,000
200,000
1,450
-
+480
+480
+480
+1,200
-
-
10
5
8th Division Lieutenant
30,000
183,312
1,400
-
+440
+440
+440
+1,100
-
-
10
5
9th Division Captain
28,000
167,716
1,350
-
+400
+400
+400
+1,000
-
-
10
5
9th Division Lieutenant
20,000
153,208
1,300
-
+360
+360
+360
+900
-
-
10
5
10th Division Captain
16,000
139,608
1,250
-
+320
+320
+320
+800
-
-
10
5
10th Division Lieutenant
13,000
126,960
1,200
-
+280
+280
+280
+700
-
-
8
4
11th Division Captain
10,000
115,178
1,150
-
+240
+240
+240
+600
-
-
8
4
11th Division

Lieutenant

7,000
104,184
1,100
-
+200
+200
+200
+500
-
-
8
4
12th Division Captain
4,000
93,942
1,050
-
+180
+180
+180
+450
-
-
8
4
12th Division

Lieutenant

2,800
84,448
1,000
-
+160
+160
+160
+400
-
-
8
4
13th Division Captain
2,400
75,570
300
-
+140
+140
+140
+350
-
-
6
3
13th Division

Lieutenant

2,000
67,368
250
-
+120
+120
+120
+300
-
-
6
3
Substitute Shinigami
1,600
59,722
200
-
+100
+100
+100
+250
-
-
6
3
Shinigami Reserve
1,200
52,632
150
-
+80
+80
+80
+200
-
-
6
3
Shin'ō Academy Student
2,000
46,068
100
-
+60
+60
+60
+150
-
-
6
3
Rukongai Resident
-
40,000
100
-
+40
+40
+40
+100
-
-
6
3