Event Rules

Lasts for 5 days.

Players can get 1 free chance of Treasure Hunt every 12 hours. You can refresh the final reward before event stars. Free reset is available when you reach the final grid.
Spend Gold to move random steps (1-6) on the map. Use Super Hunt to select steps.
Regular Treasure 150 Gold | Super Treasure 250 Gold
You can receive random rewards when you step on normal maps. Rewards from golden map is constant. Reach the final grid to receive final rewards.
Final Rewards:
12x Basic Fury Stone
2x Level 9 Strength Stone
2x Level 9 Agility Stone
2x Level 9 Stamina Stone
2x Level 9 Wisdom Stone
50x Assistant Mod Soul Exp Card
Ultimate Accessory Chest (Lvl 100)
60x Hogu Enhance Talisman
12x Almighty Modifiy Fragment Chest
Achievements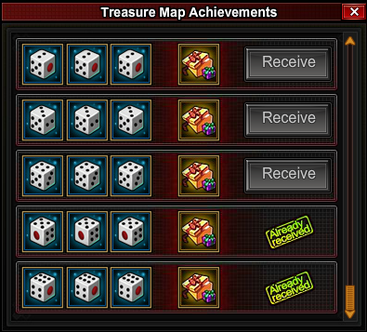 - can only claim rewards once per Treasure Map.
1 + 2 + 3 = 10x Lv10 Silver Card, 10x Epic EXP Scroll, 10x Bright Stone, 180x Crystal Core
4 + 5 + 6 = 200x Universal Spirit Water, 20x Lv10 Silver Card, 20x Epic EXP Scroll, 200x Purple Reishi
1 + 1 + 1 = 9x Hogu Enhance Talisman
2 + 2 + 2 = 3x Basic Fury Stone
3 + 3 + 3 = 180x Golden Reishi
4 + 4 + 4 = 1x Lvl 5 Str Stone 1x Lvl 5 Agi Stone
5 + 5 + 5 = 1x Lvl 5 Wis Stone 1x Lvl 5 Sta Stone
6 + 6 + 6 = 30x Hogyoku Hollow Spirit